Jak samemu zrobić karmnik dla kur?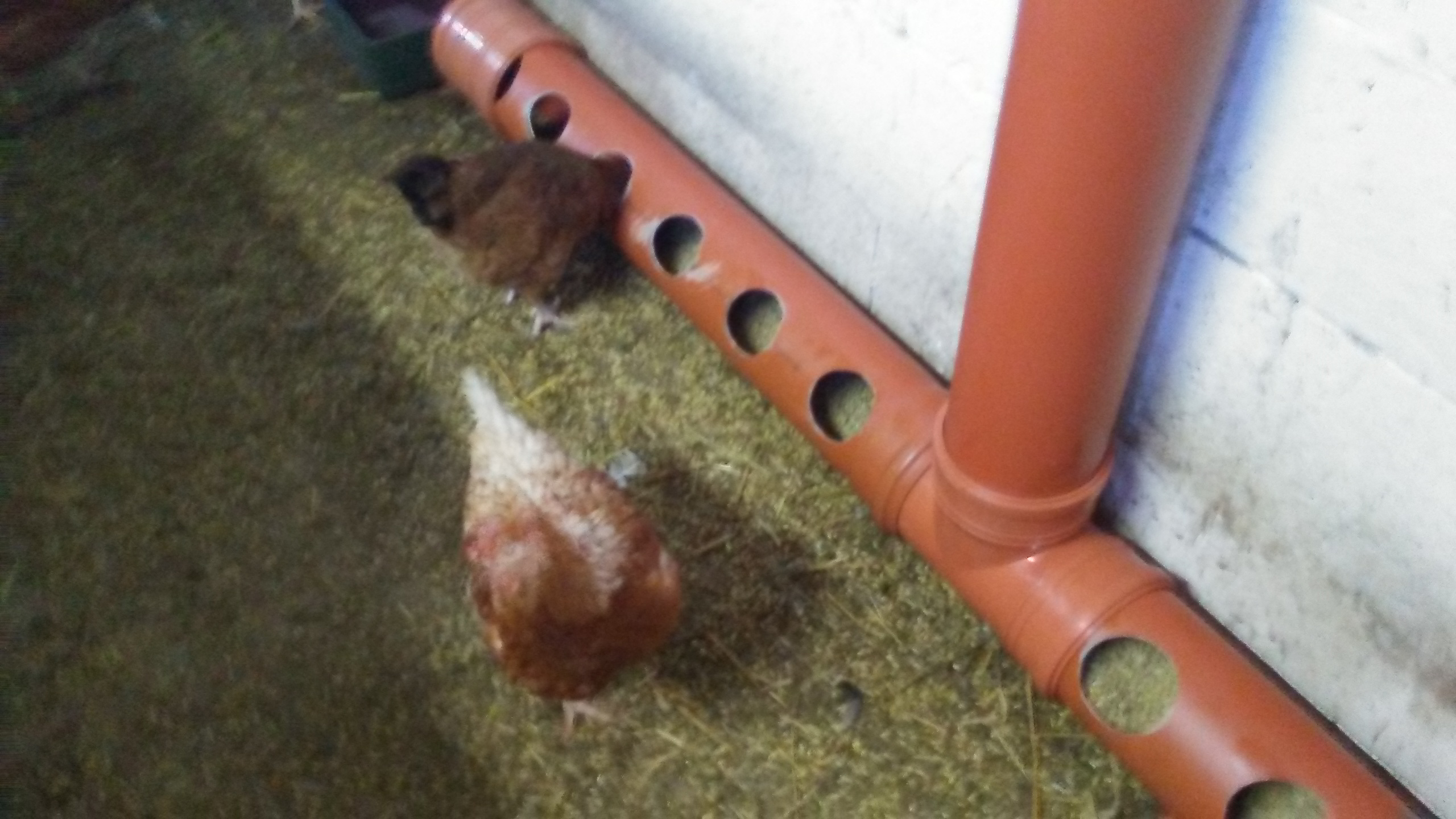 Zwierzęta w tym także kury mają swoje ważne miejsce w permakulturze.
W lutym tego roku, któregoś słonecznego dnia zrobiliśmy karmnik dla kur podpatrzony na rosyjskim internecie. Karmnik sprawdza się i ma pewne zalety, o których warto wiedzieć. Kiedy jednak robimy taki karmnik pierwszy raz, to jest duża szansa popełnienia kilku błędów. Opowiem o tym, co ja zrobiłem źle i co bym następnym razem poprawił lub zmienił.


Zacznijmy od tego, że podjąłem decyzje o zrobieniu tego karmnika spontanicznie, robiąc zakupy w sklepie z materiałami budowlanymi. Kupiłem więc rury zbyt drogie, zbyt duże i zbyt mocne. Zrobiłem też za duże otwory. Na zdjęciach widać, że otwory są różnej wielkości, te najmniejsze by wystarczyły, ponieważ przez większe jakimś cudem kury nadal potrafią wygrzebać na zewnątrz ziarno.

Do zrobienia otworów użyłem czegoś takiego, jak widać na filmie i niestety rury zbyt mocne a brzeszczot był zbyt słaby. Blacha z ząbkami wyskakiwał z prowadnicy i nie nadawała się do dalszych wykrojeń. Musiał zakupić kolejny wykrojnik a ten jeszcze szybciej się psuł, mimo że starałem się wykrajać otwory bardzo delikatnie. Być może przy rurach ze słabszego materiału nie byłoby tego problemu, ale żeby nie ryzykować, warto zakupić solidniejszy wykrojnik.
Mnie te brzeszczoty porysowały rurę i po ich uszkodzeniu musiałem zastosować mniejsze rozmiaru, co akurat nie było złe, bo faktycznie otwory mogłyby być mniejszej średnicy.

Do budowy wykorzystałem trzy rury metrowej długości, dwie poziome i jedna pionowa, złączkę trójnik i dwa denka zamykające. Żeby zamknąć rury poziome z dwóch stron potrzebna będzie przejściówka. Ja zdecydowałem się teraz mieć jeden koniec otwarty i dlatego ta przejściówka stała się niepotrzebna, a sam dekiel dała na rurę zsypową jako zamknięcie.

Radziłbym zastosować mniejszy rozmiar rur z tańszego materiału. Denka nie są konieczne, bo i tak trzeba będzie czasem je otworzyć a może być to trudne.

Zaletą takiego karmika jest możliwość zasypania rury większą ilością ziarna, tak by starczyło go na dłużej, co będzie przydatne w razie dłuższej naszej nieobecności. Ziarno wewnątrz jest suche. Kury nie powinny go rozrzucać po całym terenie. Dodatkową zaletą jest wąski rozmiar. W moim przypadku umieściłem go pod ścianką w przejściu. Nie zajmuje to dużo miejsca i można poruszać się tutaj bez problemu, gdybym zakupił alternatywny karmnik na 20 kg ziarna, z powodu jego rozmiarów miałbym problem z ominięciem kur.

Zauważyłem, że w środku coś zostaje. Kury jakby nie zjadają ziarna do końca, więc wymontowałem karmnik i otworzyłem boczne denko. Okazało się, że to plewy, które nie są dla nich cennym pokarmem, wysypałem je w kurniku, by sprawdzić, czy zjedzą, ale nie były zainteresowane, choć sprawdziły, czy coś tam jest dla nich dobrego. Karmik więc spełnia swoją funkcję.
Krzysztof Król