Karmienie piersią jest zdrowe dla dziecka i matki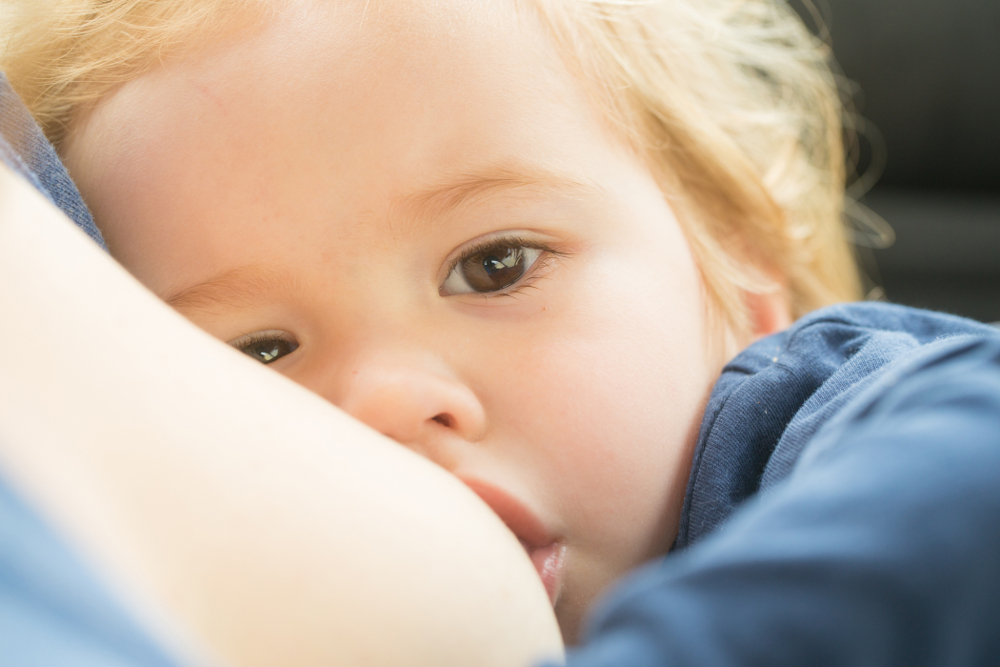 Karmienie piersią jest bardzo zdrowe i ma wpływ na inteligencję dziecka, a także na zdrowie matki.
To co dla średniowiecznych kobiet było oczywistością, dzisiejsze wyedukowane panie muszą się douczyć. Jeśli tego nie zrobią to będą szkodzić sobie i swojemu dziecku myśląc, że bardzo dobrze o nie dbają. Problemem matek i ich dzieci jest agresywna propaganda koncernów zachęcająca do żywienia dzieci tylko ich wyrobami. Na różne sposoby zniechęca się kobiety do karmienia piersią.
Tymczasem badania na Uniwersytecie w Kansas przeprowadzone na ponad 80 tys. kobiet, udowodniły pozytywny wpływ karmienia piersią na matki. Korzyści dla dziecka są oczywiste i potwierdzone przez inne instytuty badawcze, a te badania potwierdziły po raz kolejny korzyści dla kobiet karmiących. Korzyści te dotyczą matek, które już są w bardzo podeszłym wieku, czyli chodzi o bardzo daleko idące w czasie korzyści.
Do badania rekrutowano kobiety w latach 1993 - 1998 w wieku średnio 63,7 lat, a obserwacje trwały przez kolejne 12-13 lat.
Wszystkie z badanych kobiet urodziły jedno lub więcej dzieci, ale tylko 58 proc. z nich karmiło piersią. Pozostałe wolały skorzystać z produktów przemysłowych.
W grupie matek karmiących:
51%. karmiło piersią przez okres od 1 do 6 miesięcy,
22% od 7 do 12 miesięcy,
27% przez ponad 13 miesięcy.
Po wzięciu pod uwagę znanych czynników ryzyka naukowcy stwierdzili, że u wszystkich karmiących piersią uczestniczek prawdopodobieństwo wystąpienia udaru było o 23 proc. niższe niż w przypadku kobiet, które nigdy nie karmiły piersią. Dotyczyło to zwłaszcza kobiet, które karmiły przez minimum sześć miesięcy.
Zaobserwowano także różnice w poszczególnych grupach etnicznych:
kobiety czarnoskóre o 48%,
Latynoamerykanki o 32%,
kobiety białe 21% miały większą szansę uniknąć udaru.
"Niektóre wcześniejsze badania wskazywały na związek karmienia piersią ze zmniejszeniem ryzyka raka piersi, raka jajnika oraz rozwoju cukrzycy typu 2 u matek. Niedawno opublikowane prace sugerują także zmniejszenie prawdopodobieństwa wystąpienia chorób układu sercowo-naczyniowego."
powiedział dr Lisette T. Jacobson, autorka analizy
Mleko matki jest idealne dla niemowlęcia zarówno zdrowego, jak i chorego. Zawiera wszystkie niezbędne makroelementy, składniki mineralne, witaminy, przeciwutleniacze, w idealnej formie biologicznej i odpowiednich dawkach (brakuje tylko witaminy D3).
Skład mleka matki zmienia się w zależności od potrzeb dziecka. Inny jest skład dla noworodka, inny dla miesięcznego oseska, a jeszcze inny w drugim rok życia dziecka. Odmienną zawartość tłuszczów, białek i innych elementów mają też porcje mleka o poranku, po południu i w nocy.
Mleko mamy jest zawsze świeże, bezpieczne i ma idealną temperaturę. Czego nie można powiedzieć o sztucznych produktach spożywczych, w których często dochodzi do uszkodzenia niektórych składników.
Mleko matki ma duży wpływ na ochronę zdrowia dla dziecka, jest naturalną i bezpieczną szczepionką prawie na wszystko. Dzieci karmione piersią osiągają lepsze wyniki w nauce i są na wyższym poziomie inteligencji. W trakcie swojego życia osoby karmione piersią rzadziej cierpią na otyłość, cukrzycę typu I i II, zaburzenia układu krążenia.
Krzysztof Król
Policjanka nakarmiła obce dziecko piersią.
źródła: