Żydowska agresja na Syrię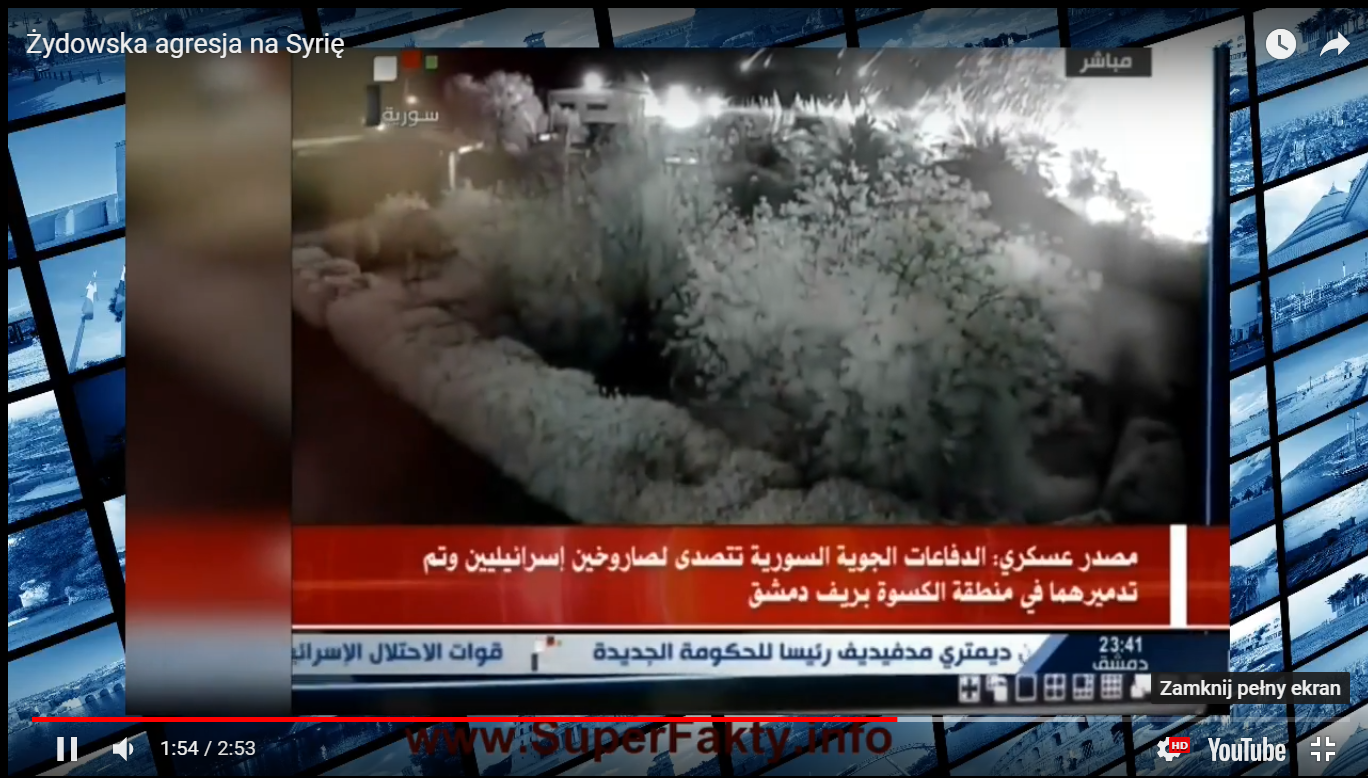 9 maja 2018 r. doszło do działań wojennych między Izraelem a irańskim Korpusem Strażników Rewolucji Islamskiej (IRGC) stacjonujących na południu Syrii.
Izraelskie samoloty bojowe przeprowadziły dziesiątki nalotów na pozycje syryjskiej armii arabskiej w okolicach Damaszku w gubernatorstwie Homs. Syryjskie źródła podały, że Syryjskie Arabskie Siły Obrony Powietrznej (SAADF) zestrzeliły kilka izraelskich rakiet.
Przy wsparciu samolotów bojowych izraelskie czołgi zajęły pozycje zajmowane wcześniej przez Syryjską Armię Arabską (SAA) i Narodowe Siły Obrony (NDF) na południu Syrii w gubernatorstwie al-Quneitra. W ten sposób Żydzi zagarneli kolejny kawałek terytorium Syrii.
Żydowska armia informuje, że z terytorium Syrii wystrzelono ponad 20 rakiet i oskarżyła irański Korpus Strażników Rewolucji Islamskiej (IRGC) o przeprowadzenie ataku. Oczywiście Państwo Żydowskie zapewnia, że system antyrakietowy Iron Dome skutecznie przechwycił "pewną liczbę rakiet". Celem tych pocisków było wojskowe stanowisko obserwacyjne, baza wywiadu i lotnisko helikopterów armii żydowskiej położone na zagarniętych Syrii Wzgórzach Golan.
Źródła żydowskie oskarżają siły arabskie o rozpoczęcie ataku i twierdzą, że ich atak był tylko odwetem. Zapowiadają nasilenie swoich działań zbrojnych na terenie Syrii, co w praktyce oznacza zagarnięcie kolejnych terenów w celu powiększenia Państwa Żydowskiego i co nikogo nie powinno dziwić, gdyż taki od początku jest cel wojny w Syrii.
Bardziej prawdopodobna od propagandy żydowskiej wydaje się wersja, w której to Żydzi zaatakowali pierwsi pozycje arabskie, a ci w ramach obrony ostrzelali punkty służące do wsparcia przeprowadzanego ataku. Przekonuje mnie o tym kilka faktów:
Państwo Żydowskie szuka od dawna pretekstu do zajęcia południa Syrii i powiększenia swoich granic.

Rzekomy atak przeciwnika był na korzyść armii żydowskiej a nie syryjskiej czy irańskiej.

Rakiety arabskie zaatakowały punkty służące do kierowania atakiem żydowskim, to tak jakby w obronie próbować sypnąć przeciwnikowi w oczy paskiem.
Która wersja jest prawdziwa? Żydzi zaatakowali a Arabowie się bronili, czy odwrotnie? Media głównego ścieku nie pozostawią cienia wątpliwości kto jest agresorem, a kto niewinnym obrońca i usprawiedliwią każdą zbrodnię tego drugiego, ale zachęcam do bada sprawy głębiej i posiadanie własnego zdania. Niestety to dopiero początek złych wieści z Bliskiego wschodu.